This is the 3rd article in our series of 3 articles about Chinese trademarks. Read our 1st article here and our 2nd article here.
General information about trademark application in China
"First-to-File" System: Whoever files a trademark application first, gets the eventual registration.
No evidence of use is required to get a registration.
Member of Paris Convention so it's possible to claim priority if filing within 6 months from the initial date of the applicant's home country.
Foreign applicants must employ Chinese local agents to file their trademark in China.
One year from filing the application to getting registration certificate: 9 months of examination, and then 3 months of publication period for opposition.
Duration of protection: 10 years and renewable.
The trademark is vulnerable to be cancelled by any third party if there is no use for consecutive three years from the date of registration.
Classification of Goods and Services
China adopts 11th Edition of Nice Classification. There are 45 classes of goods and services.
China uses a guide of similar goods/services. In this guide, each class is divided into several sub-classes, and generally, goods/services are dissimilar in different sub-classes, unless there is especial illustration.
According to Chinese examination criteria, the designated goods/services of a trademark application should be selected from the standard descriptions listed in the Guide Book. Non-standard descriptions may lead to Non-Acceptance of the application.
It is necessary to cover broad sub-classes in order to protect the trademark as broadly as possible.
General procedure of a trademark registration
1) Filing the trademark application
2) 9 months for examination by the China Trademark Office
3) 3 months of publication period for opposition
4) 1-2 months for obtaining registration certificate
General procedure of trademark registration – see diagram below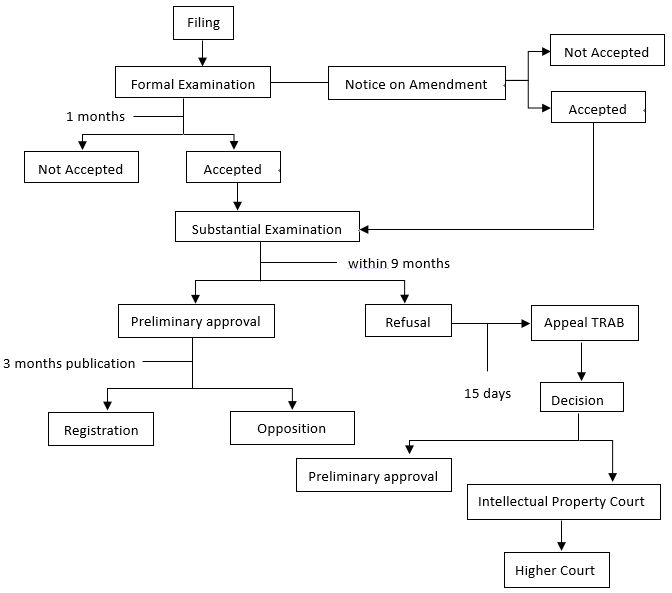 Required information and documents
Duly signed Power of Attorney
Specimen of trademark
Full name and address of the applicant, Chinese version is necessary (will be provided by us)
For business applicants, the business license or good standing document or similar type of documents to show the existence status
For individual person applicants, a copy of passport or driver's license
Designated goods/services
Original copy of priority document if claiming convention priority
OEM (Original Equipment Manufacturer) business may file a trademark in China
OEM use of a brand is controversial to be regarded as a trademark use and possible infringement risk exists.
China is a first to file country. It is quite common that a third party (sometimes your manufacturer) files your trademarks in bad faith in China and then claims infringement over your unregistered brands.
It is very time consuming and costly to respond to infringement claim. It may happen that the fraudulent party may agree to assign the trademark to the true owners with some compensation or may not.

The conclusion: a foreign trademark is not protected in China automatically. And filing a trademark timely is essential to minimize the risk of trademark piracy and the costs of getting the trademark back from the unauthorized registrant.
Other tips for filing trademark application in China
Filing trademarks as soon as possible.
Clearance search is recommended before filing.
It could help to find out if there are any conflicting trademarks and evaluate the chances of achieving registration. Meanwhile, actions such as non-use cancellation and trademark purchase could be started at the early stage, to clear potential obstacles.
Chinese version of the brand is suggested to be filed.
Please contact us if you have any questions about filing in China.